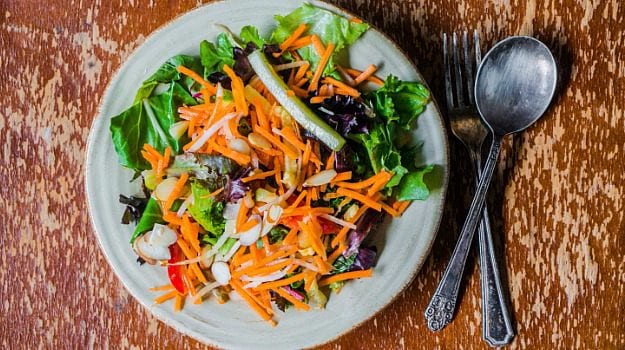 Diabetes has become one of the most prevalent metabolic disorders of the world. Currently the condition affects millions of people globally. According to a study by Lancet, by the year 2030, there would be 98 million diabetics in India alone. Diabetes is a condition where your body is not able to process sugar at a regular pace or not able to respond to insulin produced, which can cause blood glucose fluctuations. Diabetics are often advised to keep their sugar intake in control. They must also be very careful about the bad carb (refined grains, refined cereals, pasta, burgers etc.) content in their diet. If you are a diabetic, your diet should have plenty of fibre from pulses, wholegrains, fresh vegetables and fruits. This carrot and moong dal salad by popular food vlogger Manjula Jain, shared by her on her YouTube Channel 'Manjula's Kitchen', could prove to be an ideal mid-meal snack for you if you happen to be a diabetic.
Here's Why The Salad Could Prove To Be An Excellent Addition To Diabetes Diet:
The nutritious ingredients used in the salad could help check your blood sugar levels. Even the dressing used for the salad is filled with diabetes friendly ginger and lemon.
1. Moong Dal
Moong dal or moong lentil is India's most favourite dal. It also happens to be super versatile. On one hand, if they can be used for making pakodas, on the other, they can be used in healthy preparations like sprouts chaat or a salad. Moong beans are a good source of fibre. Fibre does not get digested quickly. It enables slow release of sugar in the bloodstream, which prevents spikes.
2. Carrots
Carrots again are teeming with fibre. They also have a very low Glycemic Index. They are also exceptionally low in calories. People who have diabetes often complain of weight gain. Including carrots in your diet may help keep your weight in check.  A study, published in the journal Human Genetics, found that in people with particular common genetic variations, high blood levels of beta-carotene, which the body converts to a form of vitamin A, might lower the risk of Type-2 diabetes.
Here's What All You Would Need For The Diabetes-Friendly Salad:
For the salad:
2 cups of shredded carrots
Half a cup of washed split moong dal
2 teaspoons of oil
Half a teaspoon of cumin seeds
Two tablespoons of chopped cilantro
1/4th cup of shredded coconut
For Dressing:
2 tablespoon of lemon juice
1 tablespoon of finely shredded ginger
1 teaspoon salt
1 teaspoon sugar
1/4th teaspoon of black pepper
["source=ndtv"]